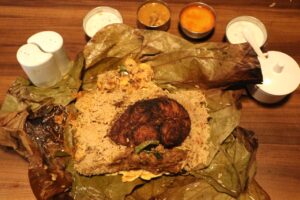 This new restaurant in Mylapore specialises in a variety of potlam biriyanis.
Called 'Kostha Ruchulu', the restaurant opened a few weeks ago at Luz Church Road next to Nalli Silks store here. It offers a range of dishes in Andhra style.
Says Syril Siddharth, manager of the restaurant, "Our speciality is potlam biriyani. A typical potlam biriyani would have an omlete at its base and plain biryani, mutton fry, prawn fry, chicken fry, and vanjiram fish fry would be topped over it in that order."
"All this would then be packed in a dried lotus leaf, and heated on a dosa tawa. It will then be served to customers in the form of a potlam, and hence the name, he says and adds, "The heating of the biriyani over dosa tawa gives a unique taste and aroma to the dish."
Other potlam biriyani varieties served at the restaurant include potlam prawn pulao, and potlam mutton pulao. Gongura mutton biriyani and ulava charu (kollu rasam) chicken biriyani are also available here.
The restaurant's breakfast menu includes pesarattu dosa, mysore masala dosa, podi idly, and nellore ghee karam dosa, that is made by spreading spicy chutney and podi over dosa.
Dinner options include chicken kottu parota, mutton keema parota. The restaurant also offers a variety of combos like Chicken curry with dosa, and Nellore fish curry with idly.
So what does Kostha Ruchulu mean? "As we bring special dishes from coastal districts of Andhra like from Nellore, Guntur and Vishakhapatnam, our restaurant is named Kostha Ruchulu, which in Telugu means the taste of coastal side of Andhra Pradesh."
A potlam biriyani is priced at Rs 380.
Open 7 am to 10 pm. Takeaways are available. Door deliveries provided via Swiggy, Zomato and Dunzo. Essential precautions are followed at the restaurant to prevent virus spread. Ph:7358307789