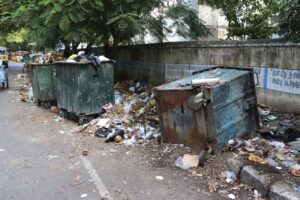 Some people still keep complaining. Some have given up on the issue. Some wonder what is in store for the colony or the street.
It is all about the garbage heaps that many Mylaporeans are sighting on their streets or inside their colonies. Why isn't the waste being cleared regularly?, is the question people are asking.
The bins, rusted and worn out are seen toppled over, mounds and bags of waste are seen strewn around them or inside them. And in some areas, the stink of rotting kitchen waste pollutes the place.
Mylaporeans will have to endure with all this since the previous agency contracted by Chennai Corporation to clear waste in many zones of the city has ended its job, long after extensions were granted and a new agency contracted to carry on with this job.
The new agency – Urbaser Sumeet – has rolled out its operations in some zones since Oct.1 when it was launched formally. In Adyar zone ( one ward in south R A Puram falls under this zone), its team is still finding its feet.
Operations in Mylapore have been scheduled for end-October but this is not confirmed yet.  However, when the operations do start, waste segregation and door to door waste collection will be promoted and people discouraged from dumping waste into street bins.
Photo featured here was shot on St Mary's Road, R A Puram