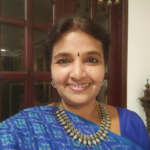 Radio and TV broadcaster Chithra Balasubramanian has been reading, absorbing and writing and talking about Mahatma Gandhi for some years now; from the time she got drawn into Gandhi's life and work.
And when the Government of India decided to celebrate the 150th birth anniversary of Gandhi is a big way, Chithra teamed up with Doordarshan in Chennai and the team curated and produced 150 visual episodes on the life and work of Gandhi, which were telecast daily on the DD Podhigai channel.
It was while researching for this series for DD that Chithra, a Mylaporean read a lot on the Dandi Salt March and also on the corresponding campaign that freedom-seekers had undertaken in Tamil Nadu that culminated in Vedaranyamon the east coast.
She began to post episodes of the Salt March events on this eventful phase in India's freedom movement on her social media page, from March onwards even as the lockdown due to the breakout of the Corona virus was setting in.  These were written in Thamizh.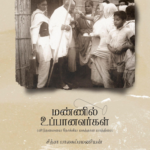 "There is so much material on this phase that I chose to write it in the form of a diary, a day by day account of all that took place," says Chithra, who continues to freelance for AIR and DD in Chennai as a news reader and producer and presenter.
Recently, a Thiruvannamalai based organisation called Cuckoo Movement for Children which is doing signal work in the rural areas, work based on Gandhi's ideals and lessons has chosen to collate Chithra's writing on the Salt March and brought out a book in Thamizh.
Contact – chithra.ananya@gmail.com