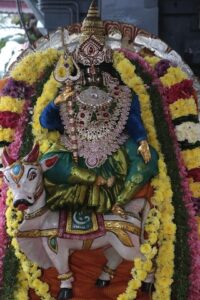 The pandemic conditions have impacted the Navaratri festival this season.
On Day One of  Navaratri festival, there were no large crowds of people inside any of the major temples in the Mylapore zone.  Even in the evening, when the ambal in the temple was grandly decorated and was open to the public for contemplation and prayer, there were some 50 to 60 people in what is a busy temple like Sri Kapali Temple.
However, the visitors were regulated and asked to move on and not stay around in the temple campus.
In Sri Kapali Temple, people were first checked for body temperature and told to wear masks to gain entry. They were let in to a queue, with barricades placed from the east gopuram gate end to the Navaratri mantapam, where the ambal with the grand alankaram was placed and on to the sannidhi.
Nowhere was prasadam given inside temples.
In all temples, there was quiet and order and very little sign of celebration and buzz that goes with Navaratri.
Photo featured here was shot at Sri Kolavizhi Amman Koil, Mylapore.