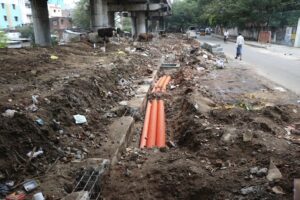 This is one civic project that has taken over a year since the time it was first drafted and formalised.
The project of creating 'smart' pavements and well-lit street space on Kalvivaru Street, the street at the rear of Vidya Mandir school campus and running alongside the polluted Buckingham Canal leading to Kutchery Road on one side.
This was the project drafted by a private architect – to create broad pavements on the street, create chambers underground to run the cables and drains and landscape the Canal side of the street and to execute smart street lighting.
The project was drawn to allow for people using the MRTS station ( Sri Mundagakanni Amman Temple) to access main roads like Kutchery Road easily and for local area residents to walk on well-designed pavements.
The work which started earlier this year saw the pavement on the Vidya Mandir rear wall side completed. The virus situation led to work disruption. Now, the civic work has resumed on the Canal side. Chambers and drains are being constructed now, but the work is at a slow pace since the the rain is disrupting the re-started work.
Some issues remain – curbing the use of the Canal banks to dump debris and waste, driving away people who use the space as a cattle shed and to prevent hawkers and others from encroaching on the wide pavements as has happened on the re-designed Luz Church Road.