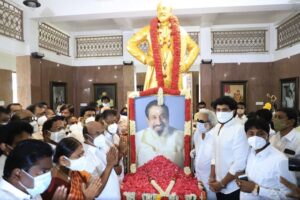 It was time to remember one of India's great actors – late Sivaji Ganesan – on his birthday. His 93rd birth anniversary fell today, October 1.
TN deputy minister O. Paneerselvam and his colleagues and supporters as well as Sivaji's son, Ramkumar and grandson, actor Vikram Prabhu and their friends were at the Sivaji Ganesan memorial which has been built by the state on the banks of the Adyar river, north of the Thiru Vi Ka bridge.
The actor's portrait, which was placed alongside the life-size statue were decorated with flowers. ( This is the statue that was shifted here after it was first installed on Marina beach road traffic junction ( near Gandhi statue and QMC).
Sadly, this memorial is hardly visited at other times of the year. There is nothing interesting to see or interact with inside the memorial for a visitor.