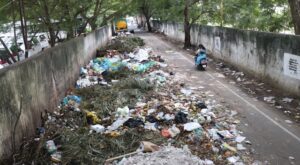 Even as the city gets a new garbage clearing agency in many zones, some places are treated like garbage dump zones. Places which are less frequented by people.
Take the case of the main road that runs through the abandoned De Monte Colony located off TTK Road at its south end.
Since the houses were abandoned long ago and people do not reside here or around the colony, garbage is dumped here and this week, as the photo shows, there were mounds of waste.
Waste is dumped by large shops, hawkers and the like.
Chennai Corporation's local conservancy staff does not seem to have made an attempt to clear the waste now and then.
And since this is no man's land, nobody seems to bother about this grave civic issue.