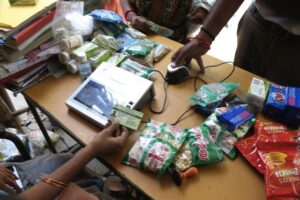 A couple of days ago, Mylapore Times received a query from S. Subashini, a Mylapore resident. Her father V. Sathyamoorthy, who is a senior resident of Bhaskarapuram, Mylapore, was facing some hurdles in sourcing this month's supply of rations from their ration store at East Abhiramapuram.
She says, "Usually they send their watchman to get the rations for them and that has been working well till this month. On October 1, when they sent their watchman, the staff at the ration shop told them that the rations would be given only to the card holder after biometric testing. On Oct. 6, after they sread a news report that a representative could get the rations on their behalf, they again sent their watchman. This time, the watchman was sent back as the staff had not received the official confirmation regarding that new order".
As they did not know what to do, Subashini reached out to Mylapore Times to find out what could be done to help seniors who due to the pandemic may put themselves at risk by stepping out of their homes.
A senior staff at the TN Civil Supplies zonal office at Venkatesa Agraharam Road, Mylapore told Mylapore Times, "The senior citizen has to come to our office and submit an application form stating the reason for choosing a representative to get rations on their behalf.
"The representative too has to come with them and they have to bring their Aadhar Card and their ration smart card. The application forms are available at every ration shop in the neighbourhood".
He continues, "Once the application has been signed and approved, the representative can bring that form to the ration shop every month to get the rations".
For details contact the Mylapore zone office that oversees issues related to rations – at 24642613.