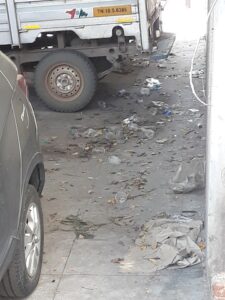 Residents living on the section of P. S. Sivaswami Salai that runs from the roundabout outside Ramakrishna Mission Students Home to Royapettah High Road say that the pavement corners are used by people to drink liquor at night.
They say that since lorries, vans and cars, mostly taken on hire are parked here, those who want to consume liquor sit behind the vehicles and have the drinks.
And hence, they leave behind the litter of glass bottles, plastic bottles, plastic cups and food waste on the pavement.
Residents say that this illegal activity takes place in the dark and has been going on for some time now and though policemen on patrol have been told about this nuisance, no firm action has been taken this far.
One resident said that the problem bothers them because families who reside on this section of the road cannot use the pavement at night. Also, the areas where liquor is consumed stinks since the waste is not cleared up by civic workers.
This resident said he intends to shoot photos of the issue and take it to senior police officials "since the problem has become unbearable'.
This report was built based on leads given by a Mylaporean. You too can help Mylapore Times with factual leads on local issues.