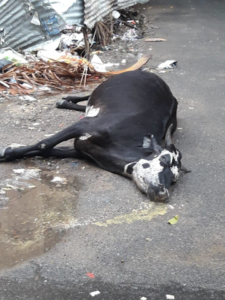 A cow was found lying dead on Bheemana Garden Street off Sriram Nagar colony this morning.
A resident reported this incident to Mylapore Times, saying that it looked as if the cow had come in contact with a live power cable or wire and died. But this cause could not be independently confirmed with the local police or TANGEDCO office of the area.
Meanwhile, Sriram Nagar residents say that some people are treating the open space where the Abiramapuram Police Station once stood as a garbage dump. The metal sheets used to fenced off the plot have come apart and some bikes and cars get parked here now and then.
( This area police station moved to the Mylapore Tahsildar's Office campus near Greenways Road MRTS station in R A Puram while a new station is supposed to come up in the Abiramapuram plot).
Lead for this report and photo was by M. Ganesh