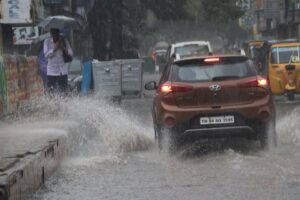 So what impact has the steady on-now, off- now rain of Tuesday had on the Mylapore neighbourhood?
First. The streets where the drainage is poor remain flooded for at least 3 to 4 hours and the rainwater drains off only if there is a long lull in the rain.
Our photographer Madhan Kumar reported this from Papanasam Sivan Salai and a section of Kutchery Road this morning.
Activist C S Baskar also reported that there was flooding in Thiruvengadam Street in Mandaveli and the rainwater was stagnant for over three hours, with residents who had to be out on urgent errands, wading through the floodwater.
Elsewhere, water drained off minutes after a break in the rain.
Some avenue trees collapsed. Raji Muthukrishnan reported a case from C V Raman Road in Alwarpet.
Most trees that collapse during steady rains are either unsuitable for proper growth for local conditions or their root systems are layered with blue metal or cement when new pavements are laid or roads/streets redesigned.
Local civic staff do respond to SOS calls on clearing fallen trees on busy roads and streets.
In some areas in recent days, Chennai Corporation staff of local units have gone around trimming avenue trees whose branches hung low or were dead, to prevent accidents when it rains.