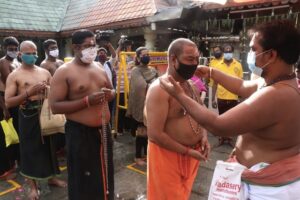 The Sri Ayyappa Temple in MRC Nagar is abuzz now as the season of people undertaking the pilgrimage to Sabarimala or observing the traditional rituals and pujas begins.
Even as the Sri Ayyappa Temple in Sabarimala, Kerala opened for the 'season' on Sunday, here in the MRC Nagar temple this Monday morning ( Nov.16), the first day of the Karthigai month, there were over fifty people dressed either in black or saffron sarongs, waiting to get initiated into a season of prayer and renunciation.
A few others who have already observed the period of prayer were seen carrying the irumudi up the steps  that lead to sanctum of the temple here.
From now on, there will be a steady stream of Sri Ayyappa devotees visiting this temple in R. A. Puram.