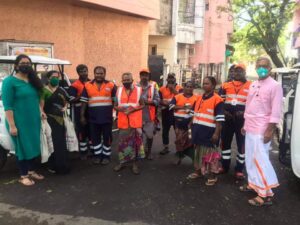 Viswajayam Foundation, an NGO based in R. H. Road, Mylapore celebrated this year's Deepavali by distributing dry fruits and nuts to conservancy workers.
On the Deepavali day, Nov. 14, members of the NGO went around the neighbourhood and distributed boxes of nuts, dry fruits to around 100 newly appointed Urbaser workers, who are in charge of cleaning the neighbourhood streets now.
Packed in reusable plastic containers, each box had small quantities of cashews, almonds, pistachio, dry grapes and 'Srivilliputhur' palkhova.
Says Sekar Viswanathan, founder of the NGO, "For the past 8 years, as a mark of respect towards the services of conservancy workers, we have been distributing sweets to them, every Deepavali. This year, we decided to give them something healthy. So we distributed dry fruits and nuts."
Picture courtesy : Viswajayam Foundation