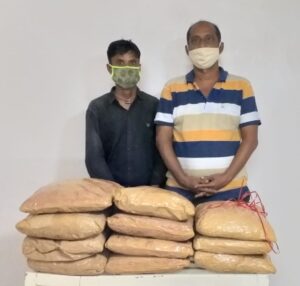 On Thursday (Nov. 26), Mylapore police arrested two persons at Nadukuppam in Marina for allegedly transporting ganja from Andhra Pradesh and supplying it to drug peddlers at various parts of the city.
They also seized 22 kg of ganja from them.
A special police team (Drive against Drugs) headed by Sub Inspector Ilayaraja carried out the arrest.
The accused, who belonged to Visakhapatnam district were identified as Ravikumar (46) and Nageshwara Rao (35)
Said Thirunavukkarasu, Head Constable, and a member of the special team, "A week ago, we arrested a man called 'Ganja' Subramanian for peddling 1 kg of the contraband. While interrogating him, we came to know about Ravikumar and Nageshwara Rao."
"The duo have been regularly supplying ganja to Subramanian and various other drug peddlers in the city, after transporting it from Andhra Pradesh."