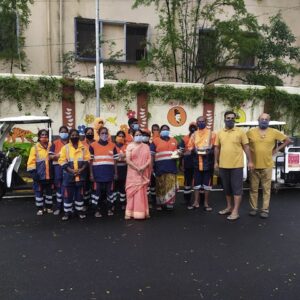 One small group of the staff of Urbaser Sumeet, the new agency which clears garbage were in for a warm surprise on Thursday afternoon in R. A. Puram.
The Ramakrishna Nagar residents association's ( this community has grown from the TAKSRA group) senior members presented the workers of this area with a pack of biryani for lunch and a box of sweets for Deepavali.
Senior member of the community, K. L. Bala says that the Urbaser team is doing a wonderful job in the area of clearing the waste.
For a few years now, this association has been maintaining  the area well with plants on streetside, getting walls painted brightly and garbage collected efficiently, which has gone to make this colony a neat and clean one.