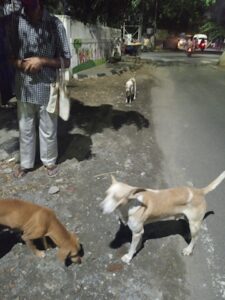 Vijayalakshmi Sivakumar and her family reside near the Mandaveli MRTS railway station. She and a few others have been feeding stray dogs for some time now.
Some dogs hang around Vijayalakshmi's residence and are fed daily but these dog lovers also walk around to feed stray dogs in the R. A. Puram and Mandaveli area.
Says Vijayalakshmi, "There are some 20 to 25 dogs in our zone and they recognise us the moment we walk closer to them."
In summer, these volunteers place at their gates, water in bowls for the dogs to quench their thirst.
Vijayalakshmi says there is an urgent need to sterilise the dogs since their population has increased these past months. And this calls for funds.
Says Vijayalakshmi who is known for her delicate handicrafts which she sells online, "The animal dispensary based off Besant Avenue in Besant Nagar charges 2500 rupees for each surgery but this fee is beyond the affordability of a single person. We are ready to get the stray dogs to this hospital but we need sponsors for the surgery."
If you would like to support this endeavour, mail to – dharshiv.viji96@gmail.com