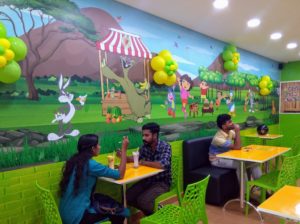 Juice World store in Mylapore, that sells a range of juices and snacks is now hosting small birthday parties and functions, as well.
The restaurant also offers an unlimited vegetarian buffet, that includes a variety of juices (watermelon, lime), and snacks (french fries, burger) for people, who are celebrating their birthdays/functions here.
Says Bhairavi Dineshkumar, owner, "People can make use of our restaurant space to have birthday parties and small get-togethers involving not more than 35 people. The minimum number allowed for a party is 5 members."
One can either choose to buy veg. buffet or they may order juice, snacks separately from our restaurant, she says.
Bhairavi says that people who intend to celebrate their birthdays are required to pay only for the food they eat from the restaurant. They may themselves bring cake, and materials, to decorate the restaurant for the occasion.
"Alternatively, we could also arrange for cakes/decorations. We also have a TV and a music system, with speakers. People can also make use of it for their celebrations."
One of their veg. buffet is priced at Rs. 499.
At 150/63, P.S.Sivaswamy Salai, Mylapore. Timings: 11 a.m. to 11 pm. Ph: 9500162314.
Picture: file photo of Juice World taken in early March 2020;