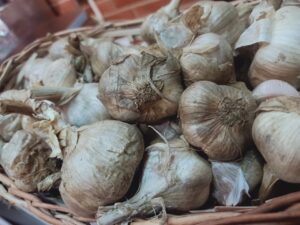 VMV Gramiya wood-pressed oil store that used to be at South Mada Street, Mylapore has recently shifted to Venkatakrishna Road, Mandaveli near Spencer's supermarket.
The store that offers groundnut, coconut and sesame oil, prepared using its own vaagai mara chekku is also selling a number of organic products now.
Organic thuvaram paruppu (split gram lentil), ghee and A2 cow's milk are some of them.
Mountain garlic, Kollimalai idicha puli, handpound rice (seeraga samba, karunguruvai, arupatham kuruvai rice), and millet chappati flour are also available for sale here.
250 grams of mountain garlic is priced at Rs 140.
For details contact the store at 7299016425