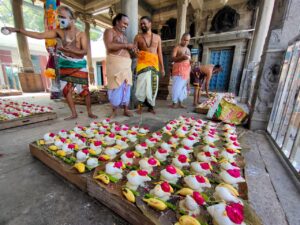 On the occasion of the fifth Monday in Karthigai, 1008 shanka abhisekam was performed at Sri Kapali Temple in Mylapore this morning.
The rituals were led by the temple's chief priest Jayakanthan shivachariar.
Early in the morning, all the conches which are in the possession of the temple were laid out on the floor of the Navaratri mantapam, where the preliminary rituals were conducted.
The series of abhisekams took some time to be performed.
A number of people attended the special abhisekam.