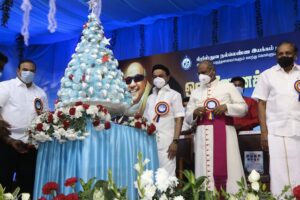 The DMK party hosted a Christmas social at the indoor auditorium of San Thome Higher Secondary School in San Thome on Sunday evening.
Present at this colourful event were the DMK leader M. K. Stalin and archbishop Rev. George Antonysamy of the Catholic diocese of Madras-Mylapore.
Some 500 people were given gifts for the the festival.
A large crowd of DMK cadres were present. A private entertainment agency got up this event.