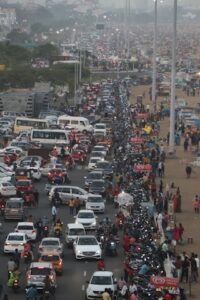 Hundreds and hundreds of people crowded at the Marina beach on Sunday evening, the first weekend after the Marina was opened to the public since the closure in early April due to the pandemic.
Since 4 p.m. streams of families were seen headed from all sides to the beach side in Mylapore and San Thome to enjoy what is their favourite place for fresh air and some fun.
But very soon, even as dusk settled it was clear that all social distancing norms were thrown to the winds. Many people did not wear masks.
There was chaos on the service road of the Marina.
Police have banned parking on the main Kamaraj Salai and hence, bikes and cars, autos, vans and mini buses crowded into the service road which is a paid parking zone.  The parking attendants didn't have the capacity to manage the rush.
Many beach hawkers opened to sell snacks, toys and stuff; some hawker stalls still bore the bruises of the recent cyclonic weather. Much of this space along the service road looked messy too.