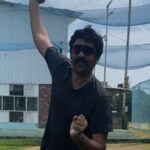 The Mylapore Club has finally opened up its nets to cricket coaching.
After the state-governed restrictions had been lifted a few months back, the Club adopted a cautious approach by opening up its canteen to take-aways alone. Slowly the club opened up its library and the cards room. Later it opened up the shuttle and tennis courts for members.
Former first division cricketer and a member of the club Aravind Srinivasan, a full time coaching professional, has been providing one on one coaching  to young cricketers at the Club's net facilities for the last few years.
He says that he communicated the opening of the one on one cricket coaching to all his existing students earlier this month and has found mixed reactions from parents and kids
"While some kids have been excited about coming back to the nets to sharpen their skills ahead of the cricket season that is set to re-open, a few parents have expressed apprehension in sending their kids to the club and are adopting a wait and watch approach."
On its part, the Club has taken tough precautions with every kid and his parent being screened for a temperature check at the entrance.
At any point of time, only a total of five cricketers are allowed at a nets session. Every kid has to bring his own cricket ball and also his own personal cricket kit.
Mylapore Club has three nets facilities but at the moment cricket sessions are permitted only in the first and the third net so as to allow for social distancing.
Over the recent years, Aravind has initiated a daily routine among his wards that include food habits, sleep routine and exercises at home.
In the last fortnight, feedback from some of the parents of his wards has come as a pleasant surprise to him.
"Parents reported that their kids who have followed the daily routine are feeling confident about their own selves," he says.
Aravind says parents are now managing life with tight purses and hence, aren't keen to pay bug. He expects classes to be clipped.
Aravind Srinivasan counts among his students a TNPL fast bowler, a first division fast bowler from the league champions and teenagers from the under-14 and under-16 City and State teams.
Aravind also captains a TNCA league team in the lower division and has been playing cricket for over three decades.