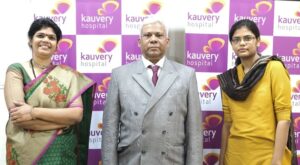 Kauvery Hospital in Alwarpet has launched the KauveryAshirwad Program, a multispecialty geriatric care initiative exclusively designed for senior citizens.
The programme includes a wide range of health services and checkups such as diet counseling, eye checkups, dental care, physiotherapy sessions, elder safe home assessment, ambulance services and home delivery of medicines.
Apart from these it also covers mobile clinics or health checkups at the comforts of their home for senior citizens thus avoiding frequent hospital visits, says a press release from the hospital.
Prof Dr. S Sivakumar, senior consultant – geriatrics ,Kauvery Hospital says , "Regular monitoring
of health for people above the age of 60 becomes mandatory. Especially those with complaints of
blood pressure, diabetes, and heart ailments need to keep their vitals in check at regular
intervals. Our programme will help them to gain access to comprehensive healthcare."
The launch also had Dr Kavitha Sundaravadanam, senior family physician and Dr Oviya Elango, consultant geriatrics, who spoke on the benefits of this programme.
Dr Aravindan Selvaraj, executive director, Kauvery Hospitals was also present.
Contact for more info – 4000 6000
Photo used here was shot at the launch of the programme