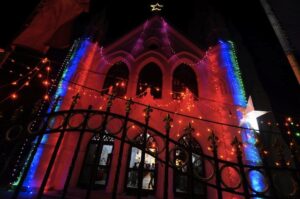 The facade of the San Thome Cathedral bathed in shades of pink, red and purple lights greeted church goers on Christmas eve as they made their way to Holy Mass here late evening on Thursday.
Some 1000 people gathered in this heritage space, decorated with flowers and buntings to take part in the service in English and once it was over, spent time to greet friends and family on the campus even as the mist set in.
Later, at 11.30 p.m the Holy Mass in Thamizh was celebrated for the community and then, the large crib set up on the open air stage on this campus was opened.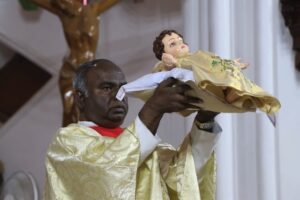 San Thome did not have the usual buzz that Christmas brings with it at this time of the year for the pandemic time regulations sobered down hawkers and families from across the city who choose to attend Mass at the Cathedral's open-air services.
But down the road, other churches – the CSI St Thomas English Church and CSI St Thomas Tamil Church looked pretty in the illumination around them.
In the east side of R. A. Puram, the Catholic community was also attending Holy Mass at Our Lady of Guidance Church on Lazarus Church Road where the grand illumination and the eye-catching crib greeted church-goers.
The two big restaurants in this area – KFC and Palmshore, also well illuminated were packed with families and friends enjoying a late evening dinner.