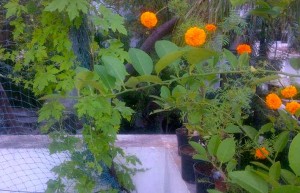 Have you been thinking of setting up a terrace garden?
If yes, then you may want to attend this meet-up in R. A. Puram.
RAPRA ( R. A. Puram Residents' Association) and the Horticulture Department of Tamil Nadu are jointly organising Horticulture Day on December 13, Sunday.
Events are from 9 am. to 1 p.m. in front of Chennai Corporation park on 7th Main Road, R. A. Puram.
There will be an awareness talk given by a horticultural officer on 'Planning  a Terrace Garden".
There will also be sale of vegetable seeds, flower pots, neem oil,  manure, cocoa peats and more.
A special kit containing varieties of items required to set up a kitchen garden will be sold at a reduced price on production of a copy of your Aadhar card and a passport photo ( this is to account for the sale).
For more details contact Radhika at 9790899758.
Photo used here is from the archives