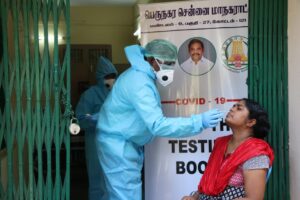 Health workers attached to Chennai Corporation say that fewer people are using the services of its sample collection centre, these days.
The civic body's sample collection centre, that has been functional since early July is located at the Corporation's AIDS prevention and control society at R.H.Road, Mylapore.
Says a health worker, who manages the centre, "Fewer people are giving their samples for virus testing now. Few weeks ago, at least 150 people were using our services."
"But now, less than 100 are dropping in to give their samples."
Earlier, he says that the Corporation's ward units also used to identify and send over 20 symtomatic persons to their centre, everyday. "But that number too has reduced to 10 now."
The centre is open from 8.30 am to 3 pm on all days except Sundays. People who have virus symptoms may also independently walk-in for sample collection here. It is done free of cost.