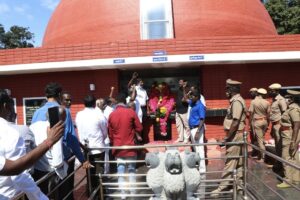 Groups of people from various walks of life were at the state-managed Ambedkar Mantapam in R. A. Puram's D G S Dhinakaran Road to offer flowers and tributes on B. R. Ambedkar's 64th death anniversary today.
There was a steady stream of people at this Mantapam which honours the memory and contribution of the chief architect of India's Constitution besides many other signal contributions he is known for.
At noon, there was a large group of lawyers who were at this site; all the visitors were asked to join a queue though there was no sign of social distancing here. A good number of them also did not wear masks.
A group of police staff on duty here kept an eye on the proceeedings.
The Ambedkar Mantapam is opposite the west end of Sri Ayyappa Temple and adjoins the east boundary of the Adyar Poonga.