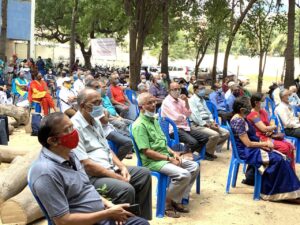 RAPRA ( Raja Annamalaipuram (west) Residents Society held its 5th Annual General Body Meeting at Raja Muthiah Higher Secondary School oN December 20.  It was well attended.
The president of the society Dr. R. Chandrasekaran, reported the activities for the past year.  He also expressed his vision for the society for the current year.
Apart mandatory business, members took a pledge to keep the environment clean, source segregate garbage ,harvest rain water and increase the green cover in the area.
The meet provided for residents to meet and greet many others in the open and after a long time.
Here are three key issues the community has to address:
The flooding of 1st Main Road caused by a block in the drain here and being addressed by Chennai Corporation. The GCC chief engineer for SWDs, Sivakumar and  Deputy Commr., GCC, Sridhar, IAS have just visited the spot opposite to Surya Sweets on 1st main road and promised permanent relief.
There is much concern about 4th Main Road whose level is going up with every relaying of road, resulting in the floor levels now lower than the road level, allowing for floodwater to easily flood each plot. RAPRA's team says it will ensure road milling is done by the contractor when this road is relaid next.
The flooding at Billroth Hospitals junction during a light shower worries residents and the issue has been taken to Chennai Corporation.
Here are three key issues the team has accomplished –
1. Installation of rain water harvesting wells in streets wherever feasible
2. Successfully proved that garbage can be easily segregated by every house and composted within the ward instead of going to landfills
3.  Planted many tree saplings to replace losses of trees due to cyclone Vardah.
But there are some issues that need attention now. These are –
1. Creating a colony that manages life without waste bins in streets
2. Deal with frequent drainage blocks
3. Encourage those who take dogs out to remove the poop themselves.
These are the RAPRA office-bearers –
Dr. R. Chandrashekharan, President T.N. Srinivas, Vice President L. Arun, Vice President S. Ravikumar, Secretay A. Suresh, Treasurer Annirutha Rahhuveer,  Jt Sec S. Hariharan, Jt Sec