From quirky wall hangings to pen stands made of agricultural waste, this store at Nattu Subbarayan Street, Mylapore has a variety of unique handicrafts and home decorations for sale.
Called Gayu krafts and gifts, the store also houses a wide range of terracotta and fabric jewellery. Gayathri Janakiram, a resident of this street started the shop a year ago. She now runs it at the renovated portion of her traditionally-built house.
Says Gayathri, "Although I have completed MBA in International Business, I have been interested in crafts since I was a child. Hence, I started my own shop."
She says that initially, she had only her handicrafts and dot paintings for sale. "Later on, I added fridge magnets, fancy jewellery and handpainted pouches made by my friends too."
The store also stocks a range of vessels (ceramic, wood, glass, steel), Kashmiri bags, wooden decorations and soap bouquets.
Says Gayathri. "I always make sure that all my crafts are unique. For instance, dream catchers (a kind of wall hanging) usually would be made with feathers of a single colour, but I make it with multi-coloured feathers so it looks more pleasant. Similarly, we sell notebooks that sport images of famous cartoon characters like minions."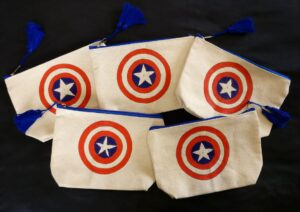 And this idea of Gayathri seems to have worked well. "Many people are buying our products now. Our dream catchers and notebooks are especially popular."
People can also buy her handicrafts, jewellery for use as gifts to friends and loved ones.
At 49/80, Nattu Subbrayan Street, Mylapore. Ph: 9962265568.