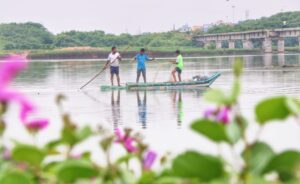 Two youths who were fishing in the waters off Srinivasapuram (in Pattinapakkam area) on Friday afternoon are reported missing after the gushing waters flowing in the Adyar river at its mouth swept away the cattamaran that the youths had put out to fish.
A third youth who was with them managed to swim ashore.
Residents of Srinivasapuram say that the three had taken the cattamaran out along the mouth of the Adyar river. It was a time when waters let out from Chembarabakkam reservoir had been let out again that morning into the Adyar river to stabilise the inflows due to continuous rains.
People in the colony say the gushing waters must have unsettled the fishing youths. They say the two 'missing' youths had tried to save the fishing nets but the strong currents swept them away.
Both youths belonged to one family which resides here.
Local police are said to have visited the colony last night but it is not clear is a case has been registered.
Photo used here was shot earlier and is the zone where youths go fishing – around the mouth of the Adyar river