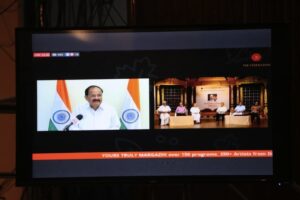 The December Season festival curated by the Federation of City Sabhas was formally inaugurated on December 15 evening by the vice president of India, Venkaiah Naidu via video-conferencing.
The heads of the sabhas' body sat on stage at Narada Gana Sabha's auditorium in Alwarpet and went through the motion of this launch, which lasted for about 45 minutes.
Only a handful of guests were at the auditorium since admission was limited. So the buzz of a festival launch was certainly missing. Nor was there the temptations of a canteen which in the normal course would have also been packed after the event, rasikas and artistes feasting on specials.
The event was webcast live by Kalakendra which has digitised over 100 performances and will be releasing them online, some three shows a day for rasikas to watch.
While sabha members get to watch free, the others need to buy passes to access the concerts which run into January 2021.
Thiruppavai and Namasankeerthanam in the mornings are web streamed too.
A clutch of Chenani sabhas have come together to fund and curate this festival which features all the top artistes; there is dance, drama and Harikatha scheduled.
Get all details at – https://kalakendra.com/yours-truly-margazhi/
Photo used here is a screengrab of the digital launch event.