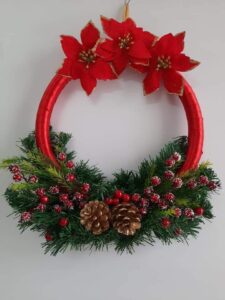 Anitha Philip Sarathy, a resident of Leith Castle Street in San Thome has been in the decorations business since 1993.
She started it as a retail business. And then went on to offer festival decorations for banks, five star hotels and clubs under the brand name 'Daffodils'
However, a few years ago, she had to take a break from her business to look after her family.
In May, she restarted the business. And as she knew that five-star hotels may not want to have big decorations in a pandemic year she developed a new business model.
Her idea now was to offer eco-friendly festival decorations to residents, at affordable prices.
Soon she named her venture  'Deck Your Halls', after a famous Christmas carol and began production work.
Around the same time, women who Anitha knew from Srinivasapuram and Dooming Kuppam, were suffering as their husbands who used to work as drivers and painters lost their jobs, after lockdown. And hence, Anitha wanted to help them in some way.
That is when she came up with a novel idea of employing these women to make the decorations.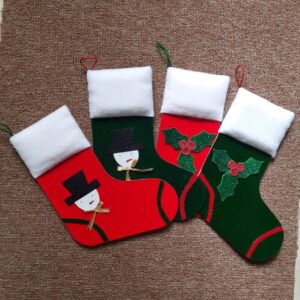 She then roped-in five of them and the team started making decorations for Christmas.
Initially, as the lockdown was intense, Anitha would have these women collect raw materials from her. And then go to their houses and make wreaths, fancy bells, wall hangings and Christmas stockings, at their own pace.
But later, when the lockdown norms were relaxed the women started making decorations at Anitha's production unit in Mandavelipakkam, following the pandemic time regulations.
The decorations, she says would be made out of locally sourced materials like paper, and ribbons.
Says Anitha, "As most of the women know to stitch, it was easy for me to train them."
She adds that her husband too supports her in the business. "While I source raw materials and handle production, my husband Philip also provides design ideas and supports in marketing."
Anitha is now offering these decorations for Christmas. A Christmas stocking is priced at Rs. 150
Their products are available for sale at the Mount Road, Porur, Anna Nagar, Kolathur and Madipakkam branches of McRenett Bakery.
They are also available at Rahaman Decoration Center at Parrys Corner. One can also place order of their decorations via Amazon. For more details contact Anitha at 9150855667/ 98410 07676.
Information courtesy: Juliana Sridhar; Picture courtesy: Anitha Philip;