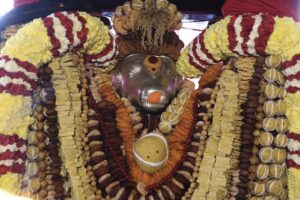 The nandi at Sri Kapaleeswarar Temple in Mylapore has had a special alankaram today.
It has been tastefully wrapped with a variety of sweets – from Badusha to Mysore pak. And with flowers on its fringes and pillars close to it.
The nandi was the main attraction this Friday morning for people who came in to pray and reflect.
We were told that the sweets will be given to visitors towards the close of day.