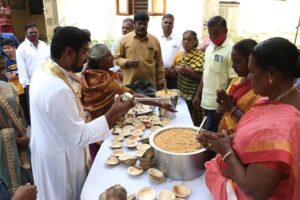 Churches have been celebrating all Indian festivals in their own unique ways. And Pongal is one of them.
Take the symbolic celebration that was held at Our Lady of guidance Chuech on Lazarus Church Road in R A Puram on Thursday morning.
The altar was decorated with a few pieces of sugarcane,
After Holy Mass, the priest blessed the specially prepared pongal and then volunteers handed out the pongal in small dhonnais to the congregation which had attended the Mass.