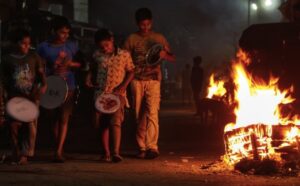 Is this a habit or a tradition to keep?
Bhogi.
Ridding all that is useless and good riddance.
Well, some people want to observe Bhogi though in recent times, there have been campaigns asking people not to burn stuff in the open and create a smog. At least, the habit of burning tyres seems to have stopped.
But on Wednesday morning, the smog hung thick across most of Mylapore. And in the last hour of street lights, it was highlighted too.
in Pallakkuma Nagar in Mylapore, groups stood around dumps that were set on fire while some boys beat the drums to keep a tradition.
Also busy were the cart-pushing hawkers; this morning they were well stocked with all that families need for the Pongal festival and were on the streets early.