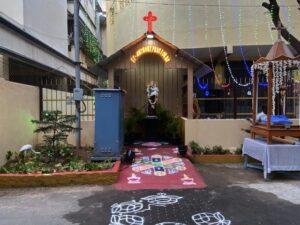 Saint Anthony is popular saint among Catholics and devotions to this saint are held in many a church.
A grotto of saint Anthony was inaugurated by Rev. Fr  Y. J. Prasad and Rev. Fr. M. Balasamy, both from Archbishop's house at Our Lady of Guidance, Church, R. A. Puram, also  known as Lazarus Church this week.
This simple event was followed by Holy Mass.
The day Tuesday was chosen as it is generally observed as the day of saint Anthony. This grotto was to have been inaugurated on the 5th of January which also happens to be the first Tuesday of the year and month but because of heavy rain, it was postponed to the second Tuesday of the month.
The spot where the grotto is located is on K.M.N. Street, and is near the entrance  of the to the parish Hall.
 Earlier there was a garbage bin near this spot. Rev. Father  Y. F. Bosco, parish priest of the Church  says, " Now that the grotto has come up here, the environment will hopefully be clean and green. People who pass by this street can stop and pray to the saint and feel the presence of God."
– Report and photo by Juliana Sridhar