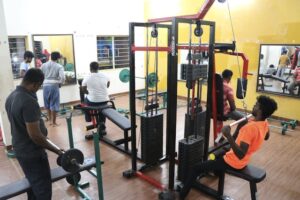 The Chennai Corporation gym on San Thome High Road needs better attention from the civic body. And perhaps, from the Mylapore MLA to whom gym users have handed over a request.
The regulars at this gym which was set up over a year ago and re-opened after the lockdown have only one request – since many people, young and middle-aged use the gym, the limited equipment here is just not enough to cater to the local needs.
Users say that when the new gym, located next to the Amma Unavagam and near the Nilgiris store on the main road, was first opened there were only few pieces of gym equipment around.
Says Praveen, a Nabikkai Nagar resident and passionate fitness youth who lost his job due to the pandemic, "We collected some of the equipment from the old gym that had to give way to the Infinity Park and the Amma Unnavagam. We have also pooled some money and got in some more weights and rods."
The gym, open from 5 to 8 am and from 5 to 8 pm draws an average of some 50 to 60 people from the seaside colonies and from Mandavelipakkam.
"We need a new hydraulic multi-use system and additional weights. We want Chennai Corporation to provide this because we cannot afford to buy all this on our own," says Praveen.
Some women who walk in the park or in the local streets have also dropped in to see if they too can use the facility but are not keen to step in because it is full of men.
Praveen says women would welcome a gym space exclusively set up for them.