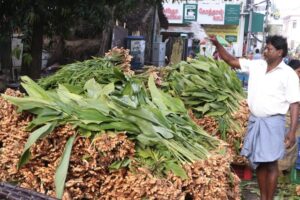 Wednesday was a busy day at the local street markets as people got down to do their shopping for the Pongal festival.
The hawkers had rangoli powders and thoranams, manjal and sugarcane and more.
Rangoli colour powder ( 150gms ) was selling at Rs 10/- in the Mandaveli street market
Sugar cane : 2pieces sold at Rs100 at the Thanirthurai market where vans unloaded the cane even at crack of dawn.
Thoranam / 2 pieces  were selling at Rs 30 at the hawker stalls of Mylapore Mada Street market whereas manjal koththu: one set was quoting at Rs100 for a large set and for the small at Rs 60 here.