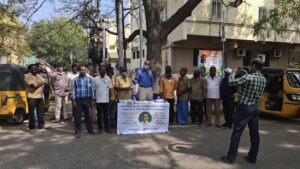 Even as political parties roll their campaign wagons across the state to prepare for the elections to the state Assembly in April-May this year, one man is making an early start in the Mylapore constituency.
He is the Congress party's V. Narayanan alias 'Americai' Narayanan.
Though based in the Adyar zone, Narayanan has his eye on Mylapore because his hunch is that the DMK, with whom the Congress is an ally will let the Congress be allowed to contest for the seat in the 2021 election.
Reason why Narayanan is driving his own little bandwagon around in Mylapore. Having been associated with city auto unions for some time, he is tapping into his connect with some autorickshaw groups to reach out to the community – guiding residents to register as voters and giving a ear to their civic woes.
Mylapore's sitting MLA, R. Nataraj of the AIADMK has been active on all fronts, keeping his days busy attending to social and state-backed events and addressing people at his office in Alwarpet. Through his tenure as MLA, Nataraj has toted plus points for being available to people and for his interactions and on-ground involvement.
Photo courtesy; V. Narayanan