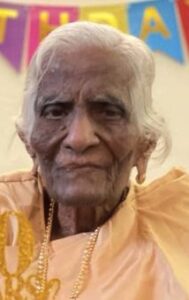 Grace Leela Joshua Moses – 'Mumma' to close friends and family – recently celebrated her 100th birthday. A resident of Rosary Church Street in San Thome for many decades now, she is a well-known figure in the San Thome Christian community.
Leela Joshua Moses was born on 24 December, 1920 the daughter of late Balasingh Mal and Annakili of Sawyerpuram, down south– the second in a family of six children. Family stories about her mischief as a child growing up are many – apparently her parents had to tie her up to the "ural" (grinding stone) because she was hyperactive!
She completed her SSLC in Capron Hall School in Madurai, and underwent training in Carnatic music while she was young and has been part of the church choir too.
At the age of 18, she married Samuel Joshua Moses who later retired as Deputy Director of Agriculture in Tamil Nadu Agriculture Department. They started their married life in Sattur, Madurai district. He was the absolute love of her life and encouraged her to play the mandolin, learn bridge and enjoy tennis games along with Europeans of her time.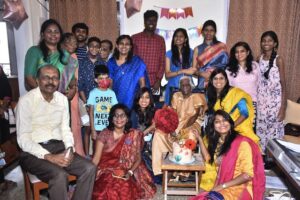 She is an ace in indoor games like Scrabble, cards and carrom. While living in Manjolai she developed a fascination for embroidery and learnt to cross stitch and embroider bullion roses.
Leela and Joshua Moses were a very loving couple and her children cannot seem to recollect a single quarrel. Her grandchildren often get to hear stories from her about their epic love!  She fondly cherishes his memories every day even though her husband passed away in 1975.
Leela Joshua Moses is a woman of great faith, and an active member of the CSI St. Thomas English Church congregation.
Her culinary skills are legendary, and in every fund-raiser sale for Church or missionary organizations, her delicious pickles, coconut burfis, murukkus, kurma and appam were the best-sellers! Her beautifully embroidered pillow covers and hankies would be sold within minutes and she produced them until her eyesight started failing recently.
Leela is an absolute fun-loving person and her grandchildren fondly recall holidays and card games when they would lose to her. An extraordinary chef, her dishes were longed for by family and friends.
She says her family has been her greatest strength and she attributes her long and happy life to the love she receives from her family.
Her family recalls her spirit of forgiveness, which knows no bounds. She never remembers any wrongs, while she always had a note of appreciation for the talent of her loved ones.  She never misses her daily morning devotion with Bible reading and singing even today.
With Christmas and her birthday coinciding, the family made time to be together, baking rich plum cakes with her year on year. But the 2020 celebration was different.
"Unfortunately, due to the pandemic we had to limit the gathering to only her children and their families" says her grand-daughter Priya Pearlin.
"We had cousins in Hyderabad and Delhi fly in while others from abroad joined virtually on MS Teams – projected for her over TV. We decorated the home with pictures from across the years as she treasures the family memories and had a cake custom made for her with the theme "Living on Love". We celebrated with a thanksgiving prayer followed by a special breakfast, photo session and lunch. Mumma blessed us all."
Leela Joshua Moses is blessed with 5 children, 13 grandchildren and 12 great grandchildren.