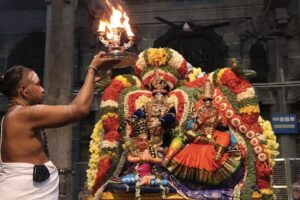 The good news for all the people who had gathered outside the fence of the tank of Sri Kapali temple on Thursday evening for the teppam was admission to the tank after the second round of the float.
Some 1000 plus were on all the three sides of the tank at around 7 p.m., grabbing the fence to watch the float. That they gained access to sit on the steps in the tank after officials allowed them in, gladdened them. And they went into solemn mode, and some into photo-shooting mode.
Day One of the annual teppam fest went according to schedule, with the grand alankaram of the lord and his consort, displayed inside the temple till they were taken out in a short procession to the west end of the tank and then seated in the decorated float.
It is understood that the temple officials will allow people to be in the tank on the next two days of the teppam but there is no official word on it.