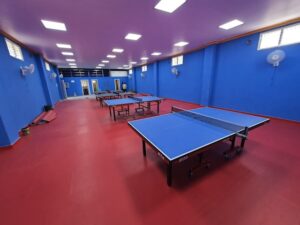 The new sports centre built and fitted exclusively for table tennis is to be inaugurated this week at the Chennai Corporation playground on Canal Bank Road, popularly known as Alphonso ground.
Built by the civic body with funds from the state and with great support from Mylapore MLA R. Nataraj, the indoor play area has been fully fitted with playing tables, lights and ventilation, washrooms and even a gallery.
It will provide for not only up and coming TT players to practice and train here but also be open to people who enjoy playing TT.
Former TT star and presently TT coach, R. Rajesh who has actively pushed for this TT centre says that he hopes that a team will manage the facility and maintain it, giving time to players and people to play the game.
Details of play time and fees if any are being worked out.
This is the first TT centre in the city promoted by the Chennai Corporation.