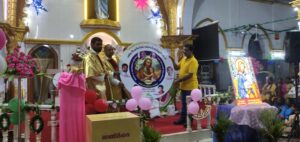 To coincide with the 150th anniversary of the declaration of Saint Joseph as Patron of the Universal Church, Pope Francis has proclaimed a "Year of Saint Joseph" from the 8th of December 2020 to the 8th of December  2021. Saint Joseph is hailed as a model of fatherhood and a key intercessor.
 In keeping with this declaration, a music  CD in honour of Joseph was released by parish priest Rev. Fr. Y. F Bosco at the Our Lady of Guidance Church at  R. A. Puram, popularly known as Lazarus Church, at the new year service held this January 1 morning.
The music has been composed by  X. Paulraj and the lyrics are by J. Albert. Both of them are members of this parish.
A banner carrying a prayer to saint Joseph, written in in English and Thamizh has been placed at the entrance of the church for church goers to recite when they drop in.
– Report by Juliana Sridhar