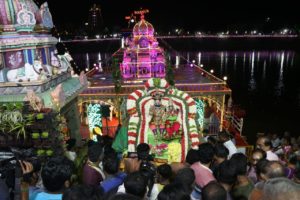 The annual Thai poosam festival at Sri Kapali Temple in Mylapore will start on January 28 and end on 30.
The grand teppam festival draws a big crowd to the steps of the temple's tank.
As of now, there is only a small sheet of water in the tank; though large amounts of rainwater flowd into the tank during the monsoon late last year, much of it was drawn into the ground where the level drops when the large number of borewells in this area keep tapping the ground water day in and day out.