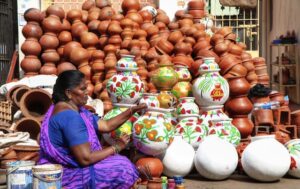 The buzz  that surrounds a festival is first evident in a marketplace.
In the Mylapore zone, you get to feel that in the street markets of Mylapore's mada streets and on Mandaveli Street.
Last weekend, at least two hawkers of earthenware set about designing pots for the Pongal festival. In the mild sunshine, we saw Rani, one of these hawkers using simple colours to create patterns on a few pots to set her business rolling.
These painted pots were priced between Rs.120 and Rs.650, depwnding on their sizes.
Rani sells earthenware round the year, the goods stocked on the street. You can reach rani at 7010814543.