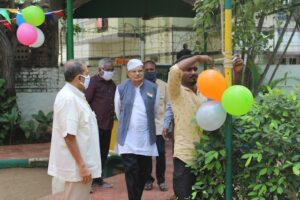 Raja Annamalai Puram Residents Association ( RAPRA) celebrated India's 72nd Republic Day at the Corporation Park, Seventh Main Road this morning.
The programme started with a prayer and rendering of patriotic songs by Sudha Prasad.
Dr. Chandrasekharan, president of the Association, recalled how India became a republic and the stupendous task of Dr B R Ambedkar in drafting the Indian constitution.
S. Ramanathan, former country director, UNIDO, unfurled the tricolor and saluted the flag. He told the gathering the salient features of the Indian Constitution.  He also spoke about the difference between Independence and Republic days.
S. Vishwanathan, Secretary MRWA, was present too.
Sweets were distributed to people present and the park was decorated with balloons and kolams, befitting the occasion.