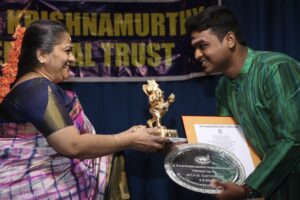 Young and talented nagaswaram artiste Mylai M. Karthikeyan was decorated with the annual Kalki Krishamurthy award  at a brief function at Raga Sudha Hall in Luz on Tuesday, January 26 evening.
Senior vocalist S. Sowmya did the honours.
The award recognises young classical music artistes annually.
Karthikeyan has not only been impressing rasikas with his nagaswaram concerts but has also collaborated with other classical artistes on recorded music and live concert shows, primarily being part of the A Carnatic Quartet team that includes violionst Shreya Devnath, percussionist Parveen Sparsh and Adyar Silambarasan on tavil.
He is a resident of New Street, Mylapore.