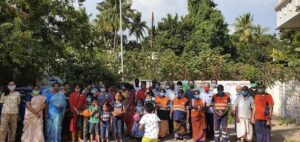 The Republic Day celebrations of the community of Rama Rao Road, Mylapore was a community effort.
The residents of this street and adjoining ones participated. Soundara Pandian, zonal head of Urbaser Sumeet ( the private waste clearing agency) unfurled the Indian flag at the corner of this road. His local staff were present.
The children of the area took an active part –  they went around to all the houses to remind residents about the function. Later, they were treated to sweetmeats.
Residents asked the Urbaser staffer to address pending civic issues of this area.

– Report by Baskar Seshadri