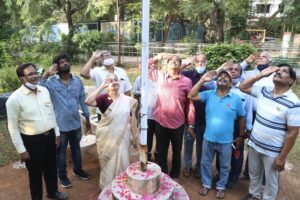 C I T Colony Residents Welfare Association celebrated the 72nd Indian Republic Day at the Chennai Corporation park on January 26 morning.
Due to the pandemic condition, many senior residents could not participate.
The event started with a soulful rendering of patriotic songs by Purva, Pavani, Sattvik and Vinaya who are students of noted violinist Kalyani Shankar, a resident of C IT Colony.
Seeta Lakshminarayana, a senior resident of the colony was the chief guest. She comes from a distinguished family of architects who have contributed to the landscape of Tamil Nadu with their landmark buildings. Sita is the daughter of architect C. Narayana Rao; she taught Sanskrit in Sishya school and has been associated with many philanthropic activities through the Rotary Inner Wheel Club of which she was a chairperson.
The Park Committer made all arrangements , following the norms given by Corporation of Chennai .
The association provided take away snacks to the participants – Uma Narayanan, Revathi Sriram and Sita Laxminarayana contributed to this effort.
Vasanth Kumar is joint secretary and T V Sekar is secretary of CIT Colony Residents Welfare Association.
– Reported by Vasanth Kumar