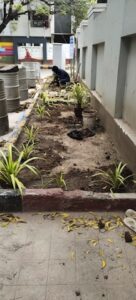 Residents of Ramakrishna Nagar in R. A. Puram are realising that the quality of life improves when they join hands to segregate waste, nurture greenery, discipline parking on the streets and work with state agencies closely.
They seem inspired by the model set by the community in Thiruveedhi Amman Koil Street which works under the TAKSRA umbrella.
Thiruveedhi Amman Koil Street has earned plaudits for its civic sense – the street now looks green, its community recycles its waste and doesn't dump it all over, vehicles parking is regulated and action is prompted against outsiders who drink here after dusk or park their vans here.
In recent times, the residents of 1st Cross and 2nd Cross Streets in R K Nagar have rolled out the model that TAKSRA offers them.  Plants have been planted alongside the boundary walls of houses and residents are learning how best to treat plastic, vegetable and metal waste.
Says K. L. Balasubramaniam of TAKSRA, "There are some 500 families in the ten streets of R.K. Nagar. Many are realising the worth of maintaining their streets and improving the quality of life. Our model is encouraging them."
The process has taken time but it is rubbing off on the neighbourhood. More because the fruits of the effort are showing – the smelly dirty waste dumps are disappearing, parking is allowed only for residents and not for outsiders and the greenery is giving the streets a cool look.
Says Bala, "I tell people that their property value goes up when others find how lovely the area is to live in. Motivating people takes time."
He also says civic agencies must enforce rules and not stop at just rolling out plans and publicising them.